What media companies should expect from a CMS platform
Join us on Wednesday, March 22 at 2:00 PM EST for a Multipub webinar.
Join us on February 22, 2023, at 3:00 PM EST For a Continuum Webinar where we will review new features
Today, we're excited to reveal the new features added to Duet, a print workflow management solution.
Join us on Thursday, January 26 at 2:00 PM EST for our first session of the year.
ePublishing adds new Moodle, AdPlugg, and ActiveCampaign CMS integrations
When was the last time you added a new revenue stream to your website? If your CMS offers dozens of ways for publishers to make money online, that should be a regular occurrence.
In September, 4.6 million attacks were launched against more than 280,000 WordPress websites. According to The Hacker News, sites using the WP Gateway plugin were exposed, "potentially allowing malicious actors to completely take over affected sites."
When was the last time you found new money on your website? If banner ads are still your dominant income producer online, it is time to make your website work harder for you.
Lorna Fenimore, our Senior Vice President of Audience, was featured in inPublishing's subscription special. Every year, their talented team asks experts to weigh in on the challenges facing the industry today. In this edition, they tackled retention.
Merger Creates Only Integrated Full Stack Publishing Solution
The entire Multipub team will remain with the business to continue to support clients' growth and develop the product.
Syncronex and 1up! Software have joined two other best-in-class product brands under ePublishing, Continuum an Enterprise Publishing System, and Ellington a purpose-built CMS for publishers.
Implementing Duet was the second and final step Hagadone has taken to modernize their workflow.
8 website redesign mistakes
Modernize your digital-to-print workflow with DUET
If spam from your website forms has caused you a headache in the past, ePublishing has stepped in to make your site more secure by upgrading to reCAPTCHA v3.
Directory Listings are an incredibly valuable feature. That's why ePublishing continues to make our Directory functionality bigger and better. Did you know you can require a user to logi
Are you leaving money on the table? You have online revenue channels you depend on. When was the last time you identified a new product or revenue stream to add? Why not today? There are mo
You already repurpose content – ePublishing gives you more options.The editors, freelancers, research and reporting it takes to produce top-notch content is likely your number one cost.
Happy New Year! An update from our product team on the year ahead.
Are you aware you can use videos on your ePublishing site to generate valuable marketing leads? 
One of the best ways to drive reader engagement and interest is to deliver a wealth of content—and content types—on a page that is all connected through high-context relationships.
We are excited to announce the launch of our new product, Duet. This solution allows users to dramatically reduce the cost of producing print pages and manage print-page production workflow.
Publisher Bioworld shares the benefits of migrating to ePublishing CMS, bringing together their brands on one website and leveraging data to increase visitors and pageviews and drive gre
In many cases, basic content management systems won't do the trick for the level of functionality publishers need. But how can you know if you're getting the most from your system or if
If you offer a great user experience, you will see higher conversion rates, which means growth in readership and subscribers, better relationships with readers and even better performanc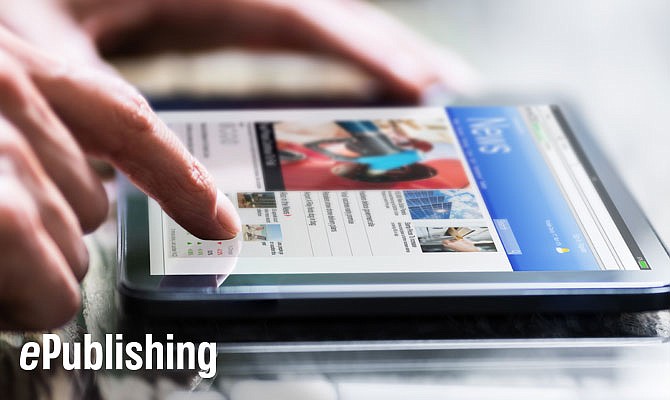 Simple XML API for Buyers Guides & Directories
Ryan Dohrn, creator of the 360 Ad Sales training system, talks data, why recommendation-based selling works, and why publishers must embrace custom content.
This week California has finalized new privacy laws, the California Consumer Privacy Act (CCPA), that you will need to comply with.
Increasing opportunities for your advertisers is just one click away
For publishers, finding and vetting a CMS should not be just about features. Your partner should maximize the potential of your website and generate the greatest ROI.
An enterprise publishing system provides control of everything in one place.
Blog
In today's blog post, we're explaining how Ellington and syncAccess work together in our recent integration. Find out how they enhance one another and add value for publishers.
Are you ready for CCPA enforcement? We are! Let us help you get ready.
Will your publishing routine ever go back to the way it was? Do you even want it to? Now is the perfect time to evaluate how efficient your operations are.
ePublishing harnessed the power of GraphQL to create an API that provides access to all your data so you can use it as you see fit – anytime and anywhere.
Leverage traffic for more revenue and build brand equity. Create topical and sub-niche newsletters as the market demands.
We now have tools that make it easier and more efficient to manage site license groups.
Looking to level up your offer codes? Easier offers generate more response.
ePublishing's Structured Data feature helps publishers improve SEO, increase clicks, and drive relevancy.
Want to host webinars on your website while having seamless UX for your readers? Check out our BeaconLive integration.
Our new search by location feature for directories helps readers find the products and services they need. This increases value for both readers and advertisers.
Many of you have been hard at work on figuring out what the heck to do about GDPR. As you know, on May 25th the European Union and U.K. are launching a data-privacy initiative
You'll find improvements in the Page Manager tool. What do you do when your Page Manager tool is jealous of your Article Manager tool? Upgrade it, of course.
Have you ever wanted to find an article in the admin tools but just couldn't remember the exact headline? Eventually you found it on page 3 of the results but if only you could have nar
Available in your admin tools right now is an expanded search functionality that brings more DAM (digital asset manager) capabilities into ePublishing.
It is ePublishing's goal to help our clients make more money, improve productivity and drive engagement. Cinchcast, our new deep integration partner helps us accomplish all three. Take adva
On October 28, 2016, ePublishing will discontinue support for Transport Layer Security version 1.1.
We are pleased to announce two new integrations: Wufoo Forms and Paypal Payflow Pro. Both are now out of beta and being used successfully by clients. Hop over to the ePublishing blog to see