Are you ready for CCPA enforcement? We are! Let us help you get ready.
We are pleased to announce two new integrations: Wufoo Forms and Paypal Payflow Pro. Both are now out of beta and being used successfully by clients. Hop over to the ePublishing blog to see
We help you understand reasons why a transaction failed. And then you can do something with that knowledge: rescue a customer's stalled purchase.
A minor SaaS Release for our admin tools to make life easier for your editors, marketers, and customer service representatives, plus more ability to control your newsletter templates.
If you're looking for new revenue sources, you've likely heard the terms native advertising and sponsored content, often used interchangeably. Does the difference matter, an
I will talk to ANYONE who will listen to me when I am exploring a new magazine launch idea, and you should as well. Contact the big fish vendors within that niche about
The question is not whether or not you go mobile with your native ads; it's how you do that successfully.
If you're like most publishers, it's a safe bet at least 25% of your traffic originates from a mobile device. Now, Google's new ranking algorithm has made Responsive Design a business impe
But, even more compelling: as time goes on, it becomes clearer that data visualization (not just images) increases engagement, significantly. 
How are publishers using proprietary and 3rd party data to build engagement and revenue? 
In our last post, we talked about why Instagram has great potential for BtoB Publishers and shared some basic best practices. Let's get into the nitty gritty:
A powerful CMS looks at user management from all angles—helping to improve your editorial workflow, while attracting and keeping visitors on your site.
As one of the 10 key qualities that guarantee success in website design, user management is certainly something to you want to set up right, from the beginning. 
Today, your editorial strategy as a BtoB publisher should be about a digital-first approach. That means a lot of things, but at the heart of it, dwells your editorial workflo
As a publisher, your digital-first strategy is all about providing an experience to your readers. You likely know what qualities comprise a good reader experience, b
We know that you can't become digital-first overnight. We know that taking a digital-first approach requires a shift in your overall business and editorial strategy. It
There is a lot to watch in social media for the coming year, but here are 5 trends to consider as you look to the year ahead.
Content Marketing is effective for increasing site traffic, building your sales funnel, building brand awareness, and educating customers about your product. But it can backfire, quickly i
How do you create incentives for your staff to use social media, without inadvertently paying editors to create clickbait?
Cyber Monday, 2014, has come and gone, but that doesn't mean it should be forgotten. 
With 284 million active monthly users and 500 million Tweets sent each day, there is a lot of opportunity to find and engage potential customers on Twitter. But, just how do
BtoB consumers have come to expect the kind of fast, friendly, seamless and effortless experience they are getting on consumer sites, but much of BtoB ecommerce falls short.
Ahh, do you remember when it was simply BYOB? Those were the days when we lived more face-to-face with everything . . . 
As a publisher, it's now part of your job to know about the latest social media networks. That doesn't mean you need t
You know the power of a blog to build traffic, boost engagement and drive revenue, but are you reaping the rewards? 
How many senior editors does it take to change a lightbulb?
Let's face it: measuring what your readers are doing is not an exact science . . . yet. 
We know that targeted ads are producing impressive results for BtoC and some BtoB companies. But as a publisher, what's the winning formula? 
We talk a lot about individualization—whether in the context of marketing our own content or paid advertising. It makes a lot of sense, but sometimes it's hard to
We're going to guess that Facebook is one of your primary targets for social sharing (yes, for BtoB, too) because recent numbers suggest that Facebook should be pa
You probably remember when you first heard of web content management (WCM). That was back when publishing online was driven by a print strategy. Really, that was before d
 There is a lot of talk these days about personalization, or more precisely, 
User-generated content is not new, but as a BtoB publisher, how much attention should you be giving it?  
As a BtoB publisher, you know that revenue diversity is the key to success in our digital world. It's no wonder that buyers' guides or directories are becoming an e
 It's no secret that many publishers use performance incentives based on metrics also used to measure the suc
It's one thing to know the value of audience personas. It's another to actually come up with them.
BtoB publishing is its own animal and there are a few key points to remember when establishing and applying audience personas to your content mark
Data is only data, unless you do something with it.  That's why we start by using it to segment our audiences. 
Behavioral Content is content that responds to how readers interact with your website. But, it's more than that.
Are you making the most of your EPS?  Here are a few more ways to find out if you are leveraging its greatest potential. 
It's refreshing to think of your editorial department as a profit center.  Let's discuss how an EPS can help you make more money.   
For many publishers, this year is the right time to update and upgrade their website and underlying publishing systems as part of an overall plan to spend less and make more
With 2014 upon us, you're probably trying to think of ways to turn those goals you set at the end of last year into reality. First thing's first: if you aren̵
How far along are we really in adopting a digital workflow to maximize efficiencies AND, most importantly, deliver compelling, useful, relevant and engaging content?
Let's get into some of the nitty-gritty of social media with a few specific tactics to achieve greater engagement. 
We've been talking about the key components that make your content an experience for your readers. Today, we'll talk about Context, Search and What'
A central function of an enterprise publishing system is the ability to correlate content with reader behavior. Simple conc
The merit of Popular Science's choice to shut down thier comments has come under scrutiny in the publishing world and it may have you wondering about your own approach to
 Some publishers are using their analytics to expand their audience and advertising. As it turns out, there is a co
Using audience data to create context awareness is likely not a new concept for you, but are you using it to its greatest potential? Do you know what your key customer p
When you see historically revered publications being sold at relatively modest prices, it's easy to feel the despair that many feel about the fate of the publishing ind
Last week, we talked about digital editions in the context of a content marketing strategy, and what purposes they serve.  This week let's talk about what pub
What's Wanelo, you ask? Short answer: It's social commerce. 
When it comes to building revenue in publishing, engagement is the name of the game. The more engaging your content, the longer visitors stick around, the more they are likel
There isn't anything definitive that says using Tumblr is a must for all publishers, but recent developments certainly suggest it's one to watch.
The digital audience has a voracious appetite for video. Over 100 million Internet users watch online video daily. No wonder it's become a critical component of ma
As a publisher, there is no question of the potential that social media holds for lead generation. But with any good marketing strategy, it's important to find the bala
There is no question that technology is now an integral part of publishing, as we have moved away from print and embraced various digital options. For many, the lines between technology co
Content is king, but as the content landscape turns into a content landslide, it might be worth adding a few qualifiers . . . 
Let's look at four key things to keep in mind as you go about setting goals or making resolutions for this year . . . 
When QR Codes first hit the scene they were touted as the lively contemporary version of the somewhat passé barcode, but . . .
There is no question that mobile needs to be part of your formula, but do you need to build your own app for mobile?
Evernote just announced that it is releasing a business version that will foster stronger sharing and collaboration . . . 
 You know something is here to stay when you see it tattooed on someone's forearm—like the QR Code, for instance . .
Speed can be intimidating—and exhilarating. When it comes to online publishing, one often walks the line between the two . . . 
You don't have to be a good hand at poker to realize that social gaming is a business opportunity. Is it a revenue builder for publishers?  . . . 
There is little doubt that big data has an increasing influence on digital publishing. The online environment is ideal . . .
IBJ.com recently released a redesigned video page that delivers something for everyone . . .
There is no question that the popular news app, Pulse holds a lot of potential for publishers in building brand awareness . . . 
Leading BtoB and BtoC publisher, Grand View Media Group, a division of EBSCO Industries, Inc. is positively aglow following the relaunch of CarWash.com.  The change tran
Just exactly how do you become more mobile (aside from adding wheels to your shoes)? 
There is no debate that the web forever changed the face of publishing. The greater question is how . . . 
Industry-leading newsletter The Turnaround Letter reinvented itself and quickly achieved 36% r
In our recent post, The Need for Speed, we talked about
No one likes to be put on hold
With everything happening in Social Media these days, it's easy to forget about proven tools for website engagement and audience interaction. . .
If you haven't heard of Pinterest, you will soon. It's the latest rage in social networking sites. But don't rush to join it—it may be right for your
Part of the challenge of transitioning to a new online content model, is that it is constantly evolving. While this gives you the opportunity to shape and influence your mark
ePublishing CEO Tom Chaffee presents to SIPA's 2011 Annual Conference, with ideas to enhance audience engagement and make more money online. For the full presentation, click here...
Mobile! Tablets! Video! ... Integrations? Integrations may not be the sexiest topic, but integrating your
BNP Media, a leading family-owned BtoB publisher, has agreed to work with ePublishing to relaunch its 80 sites, representing 10 publis
ePublishing's next-generation platform is offered as a hosted content management and eCommerce system.Our environment brings industry best practices to create the most sec
Major search engines like Google and Yahoo provide webmaster tools that assist you in evaluating your links and content on an ongoing basis. Smart webmasters use these tools regularly to en
Welcome to the resource center – this is where you can learn more about ePublishing and access valuable industry content. Visit often as this area will be changing regularly.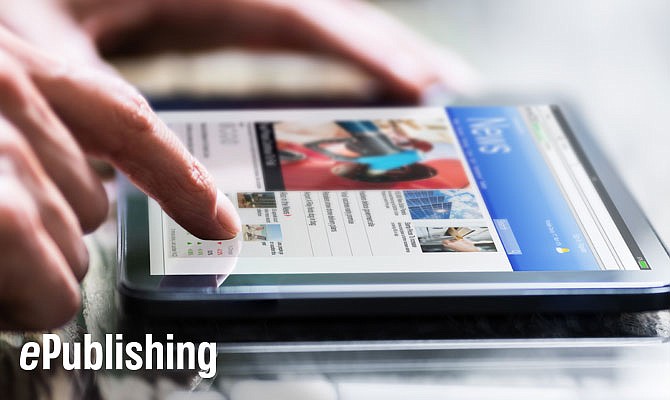 With the post-holiday rush behind us, and a new administration ahead of us, I thought
ePublishing announces its partnership with Omniture to provide premium web analytics to support sophisticated content and eCommerce strategies. Clients who opt to use this powerful solutio
ePublishing helps you maximize revenue online with web-based applications, interactive web sites, eCommerce storefronts and professional expertise. With two d
A website's success via the Search Engines is a result of many things working together: A properly structured site enabling Search Engines to s
Joining Exact Target, CheetahMail and other Email Service Providers - MagnetMail is now integrated with the ePublishing platform and has become part of the growing list of 3rd party integra
ePublishing has created the most robust hosting solution possible, built over years of experience in managing high-load, high-availability, enterprise web applications.
Whether you seek a dynamic news site, an eCommerce powerhouse or a full-featured web portal with video, each deployment of ePublishing is designed to support your unique business model.
Publishers have started setting up shop in social communities such as MySpace and Facebook. There's no denying the sheer volume of users and traffic surrounding these s
Multi-Tiered Architecture = Speed, Simplicity, Savings Integrating sophisticated database capabilities with a business rules engine and an intuitive interfac
Make more money online! ePublishing's full-featured eCommerce System allows you to sell DVDs, podcasts, subscriptions, events, conferences, immediate access, downloads and more!
In its latest platform upgrade and second major update of 2008, ePublishing enhances CMS functionality to increase internal efficiencies, speed up operations, and automate new revenue-gener
Tom Lynch, Director Of Search Engine & Online Marketing, has recently passed his battery of tests to receive his qualification from Google. According to Tom, "It has always been my job to
Come visit ePublishing at booth #412 at the annual Folio Show at the Marriott Marquis, in New York City, September 23-25, 2007.